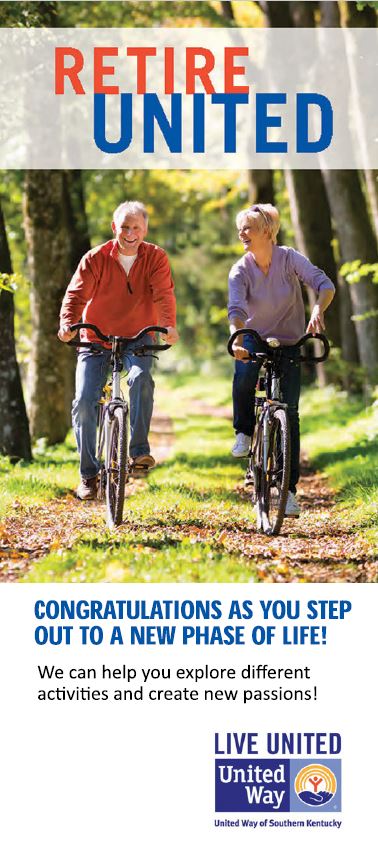 RETIRE UNITED is your way to stay involved in making a difference in Southern Kentucky.
RETIRE UNITED is for anyone in Southern Kentucky who is retired or nearing retirement and wishes to stay involved in their community by contributing their time and talent. 
RETIRE UNITED offers many rewarding experiences to both give and receive. With your involvement and input, you can continue to make a difference through United Way of Southern Kentucky.
The goal of the members of RETIRE UNITED is to GIVE, ADVOCATE and VOLUNTEER in order to create a Southern Kentucky where all residents are educated, healthy & financially stable by creating change that will last for generations. 
GETTING INVOLVED IS EASY!
It takes all of us working together to bring lasting change in our community. If you're retired or nearing retirement, RETIRE UNITED can turn your passions into purpose, and you will enjoy fulfilling benefits as you GIVE, ADVOCATE and VOLUNTEER such as redefining yourself, enjoying a sense of contribution, inspiring and educating others, and strengthening your social network.
We Make Volunteering Easy!
* Speak at Campaign Meetings on behalf of United Way by serving on the Speakers Bureau
* Advocate on local, state, and federal levels for issues impacting Education, Income, Health, and Safety Net
* Assist with the RETIRE UNITED Book Swap Boxes across the community
Let's Be Partners in Leaving Your Legacy!
It's never too early to plan for the future. You can reduce capital gains tax on appreciated assets or decrease estate taxes for your heirs. If you would like to leave a charitable legacy, contact Ellie Harbaugh at eharbaugh@uwsk.org or call 270.843.3205.
Your Involvement Transforms Lives.
Giving through RETIRE UNITED is the easiest, most impactful way to support United Way of Southern Kentucky and its efforts to improve Education, Financial Stability and Health in our community. Donations can conveniently be made through a monthly credit or debit card deduction. Sign up today to bring change to your own backyard… for today and future generations. You can make a gift by contacting Ellie Harbaugh at eharbaugh@uwsk.org, calling 270.843.3205, or downloading and returning the RETIRE UNITED Pledge Card here.
"While retirement may have changed my personal life, the daily needs of others in the community remain unchanged. No matter the phase of your life, it is always the right time to LIVE UNITED. RETIRE UNITED provides the opportunity to have a positive impact in our community."  – Joe Tinius
"RETIRE UNITED is a great way for retired individuals like me to continue to support and be involved in the mission of United Way. We can do this with our time, talent and treasure as our situation permits. We can stay involved and impact programs we believe in." – Rick DuBose