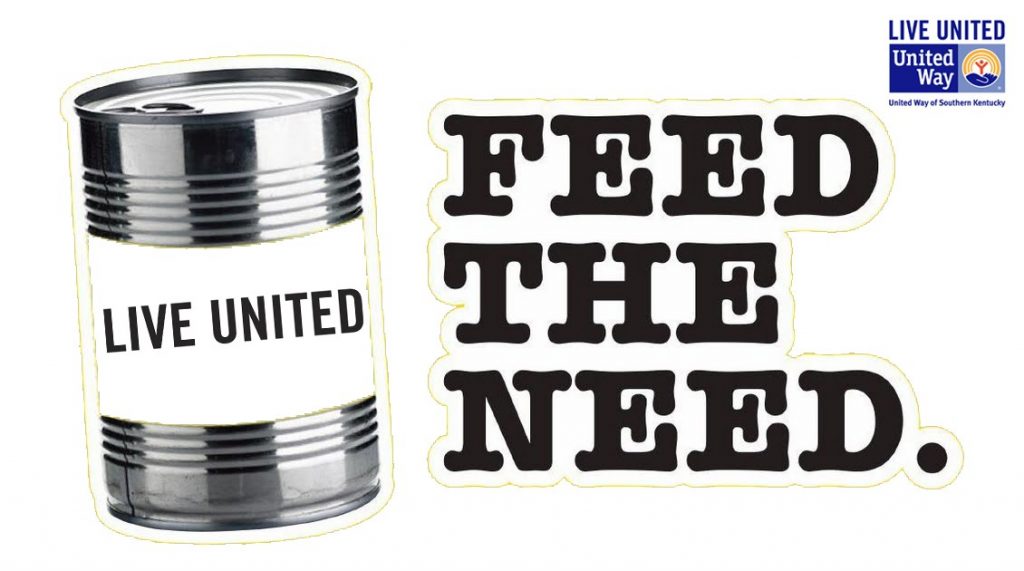 UNITED WAY OF SOUTHERN KENTUCKY FEED THE NEED FOOD DRIVE
In light of the COVID-19 pandemic and with the health and safety of volunteers in mind, United Way voted to postpone the 12th annual Feed the Need drive in-stores. The food drive which was scheduled to occur at 25 stores across the region, on March 20th and 21st, will now be scheduled for a later date.
Although the in-store drives have been postponed, United Way will still be receiving dozens of deliveries from organizations across the region on Friday. The goods from those 50+ companies, throughout the BRADD region, will then be sorted and distributed to more than 15 local food banks, to supply essential meals for individuals and families during this time. All donations benefit food banks in the county in which the donations were collected.
In addition to the supplies from company drives, United Way of Southern Kentucky has awarded $25,000.00 in grants to local food pantries and organizations that are providing food to those in need. The funding will aid organizations in dispensing crucial food in the coming weeks and months.
Debbie Hills, CEO of United Way stated, "While the decision to postpone Feed the Need was a difficult choice to make due to the dramatic increase in the need for food, we must care for our volunteers and the public. We hope these grants, in addition to the food collected through company drives, provide a meaningful influx of much-needed food for people in need."
Thank you to the dozens of companies who have been raising goods to support this drive, long before we got the news of the increased need for it. Additionally, thank you to those who have given in the past to help make these grants possible.
If you would like to volunteer on Friday to help sort the company drives, please let us know!
United Way of Southern Kentucky (UWSK) is hosting a region wide food drive titled "Feed the Need" across Allen, Barren, Butler, Hart, Logan, Simpson, and Warren counties. In its first year of inception (2009), Feed the Need collected a little more than 43,000 items; since then over 675,00 items have been collected items as a result of "Feed the Need" efforts.
"Feed the Need" was originally created eleven years ago in response to the increased need in our communities for access to basic needs including food. After speaking with the local food pantries that have benefited from the drives in previous years, it was made clear that assistance in providing a Safety Net of services like access to food was greatly needed once again this year.
Companies and organizations in Allen, Barren, Butler, Hart, Logan, Simpson, and Warren Counties are invited to participate by holding internal food drives February 1st – March 21st. If you or your organization wishes to sign up to hold an internal drive, please contact epride@uwsk.org.
All donations benefit food banks in the county in which the donations were collected. The benefiting food banks include Barren River Area Safe Space, Concerned Citizens of Logan County, Community Action of Southern Kentucky (Hart, Barren, Allen, & Warren), Feeding America Backpack Program, Hope House, HOTEL Inc., Morgantown Mission, Gasper River Association of Baptists, St. Vincent DePaul, Good Samaritan of Logan and Simpson Counties, and The Salvation Army. 
Promotional materials are available for download 
HERE.
More information about how you can get involved can be found
HERE.