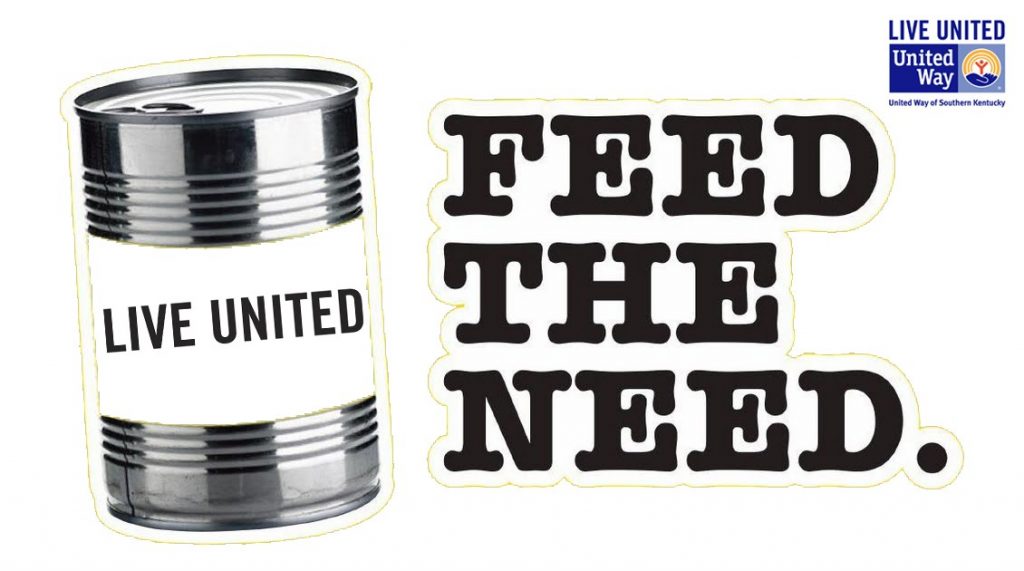 UNITED WAY OF SOUTHERN KENTUCKY FEED THE NEED FOOD DRIVE
United Way of Southern Kentucky (UWSK) is hosting a region wide food drive titled "Feed the Need" across Allen, Barren, Butler, Hart, Logan, Simpson, and Warren counties. In its first year of inception (2009), Feed the Need collected a little more than 43,000 items; since then over 675,00 items have been collected items as a result of "Feed the Need" efforts to more than 675,000 items.
"Feed the Need" was originally created eleven years ago in response to the increased need in our communities for access to basic needs including food. After speaking with the local food pantries that have benefited from the drives in previous years, it was made clear that assistance in providing a Safety Net of services like access to food was greatly needed once again this year.
Companies and organizations in Allen, Barren, Butler, Hart, Logan, Simpson, and Warren Counties are invited to participate by holding internal food drives February 1st – March 21st. If you or your organization wishes to sign up to hold an internal drive, please contact epride@uwsk.org.
Individuals can support this cause by stopping in select stores on March 20th (10 am – 6 pm) and March 21st (9 am – 1 pm). The list of stores participating in this year's drive will be posted at the beginning of March,
Each year as part of United Way's "Feed the Need" Food Drive, volunteers are recruited to assist with passing out flyers and collecting donations at local participating grocery stores to supplement the collected items from organization drives. If you wish to volunteer, please email epride@uwsk.org to sign up.
All donations benefit food banks in the county in which the donations were collected. The benefiting food banks include Barren River Area Safe Space, Concerned Citizens of Logan County, Community Action of Southern Kentucky (Hart, Barren, Allen, & Warren), Feeding America Backpack Program, Hope House, HOTEL Inc., Morgantown Mission, Gasper River Association of Baptists, St. Vincent DePaul, Good Samaritan of Logan and Simpson Counties, and The Salvation Army.
Promotional materials are available for download
HERE.